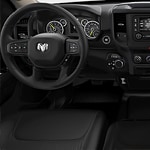 The Ram 1500 has been named Top Safety Pick by the IIHS. That is why you will be able to drive this vehicle with confidence. The Ram 1500 comes with available adaptive cruise control. It has a stop-and-go system that will be able to detect when there are vehicles in front of you. It can also increase braking when you are driving in slower traffic.
Airbags first made their debut in the 1970s. However, they have changed a lot over the past few decades. The Ram 1500 has an advanced airbag system. If a front-end collision occurs, then the airbags will deploy. The airbags have the ability to adapt based on the severity of the crash and the size of the occupants. This airbag system can help save lives.
You can try out the safety features when you take the Ram 1500 for a test drive. Make a trip to our dealership today.