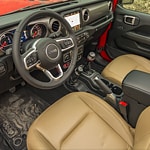 The Jeep Wrangler is an all-encompassing vehicle thanks to its wide array of features. Extreme amounts of capability can be enjoyed while cruising the city street or tackling off-road terrains. Four-wheel drive and rear-wheel drive systems are available. Consumers can also opt for the two-door model or four-door model.
The Jeep Wrangler has exceptional interior space. The rear seats have fold-flat capability, and there is a removable cargo floor. The SUV's Trail Rail system works like magic to better organize smaller compartment space. There's up to 72.4 cubic feet of cargo space that's available. Good amounts of legroom can be expected as well as good amounts of headroom. The SUV's blacked-out upholstery looks stunning to the naked eye. The vehicle's front seats have heated functionality, and there's a heated steering wheel.
There you have it. The time is now to get seated behind the wheel of the Jeep Wrangler by visiting our location as soon as possible.