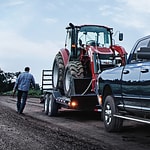 One of the most popular heavy-duty trucks is the Ram 2500. This top-selling truck offers one of the most durable builds of any vehicle in its class. Here is a look at what makes the Ram 2500 one tough heavy-duty truck.
All trucks must have a strong frame in order to last. The Ram 2500 goes a step further with a 50,000-PSI hydroformed steel frame. This frame is specially engineered with extra cross members. That makes the Ram 2500 one of the strongest and safest vehicles on the road. To ensure that the Ram 2500 will last, the truck comes unsurpassed powertrain warranties. Standard is a 5 year or 100,000-mile warranty for diesel powertrains. For gas powertrains, the Ram 2500 offers a year or 60,000-mile gas engine warranty.
Discover why the Ram 2500 is a durability leader. Take a test drive at Laplante Chrysler Dodge Jeep Ram in Embrun, ON today. We have top deals on all of our Ram 2500 trucks.