2020 Ram 1500 Sport in Embrun, Ontario
2020 Ram 1500 Sport in Embrun, Ontario
Not to long ago, the automotive industry witnessed a revolution in the truck segment. This particular model was featured with either two or for doors; there was no four-wheel drive, just a pure rear-wheel drive monster. It had a slight resemblance to a super sports car of that era because they shared the same powertrains. It was one of the most ridiculous pickup trucks of its time, and that includes the Ford F-150 Raptor. It was called the Ram SRT-10, a unique powerhouse of its time. Pumping out 500 hp and 525 lb-ft torque, it was able to burn the rear tires off in minutes. This was an indication that pickup trucks have come a long way from being simple workday tools. It has been more than a decade since the last Ram SRT-10 was sold because the appetite for a V-10 powered rear-wheel-drive truck just doesn't exist. 
However, if you're from Ottawa, Ontario, or Gatineau, Quebec, Dodge still provides a Ram truck to fulfill your need for capability and performance; the 2020 Ram 1500 Sport is the best option. At Laplante Dodge we have a great selection of Ram 1500 Sport for your consideration. Also make sure to fill out our online finance application and get pre-approved.
Ram 1500 Sport Interior Options in Ottawa, Ontario
The 2020 Ram 1500 Sport is only available in a four-door configuration with the Crew and Quad cabs available to consumers. The Quad Cab offers best-in-class legroom with huge rear seats that are able to fold down, and a flat load floor brings it all together. With neat and creative storage spaces throughout the cabin, you are sure to find space for all the things you need to carry. Jump into the driver's seat, and you will find plush leather upholstery, a unique gear selector and an available Uconnect infotainment system as long as a foot-long sub. Ram's intuitive available 12" Uconnect touchscreen infotainment system keeps you connected to the world around you with Apple CarPlay and Android Auto. The interior materials are high quality with coloured stitching, brushed aluminum and many other luxurious features.
Sales hours
Monday

9:00am-7:00pm

Tuesday

9:00am-7:00pm

Wednesday

9:00am-7:00pm

Thursday

9:00am-7:00pm

Friday

9:00am-5:00pm

Saturday

9:00am-3:00pm

Sunday

Closed
2020 Ram 1500 Exterior
2020 Ram 1500 Interior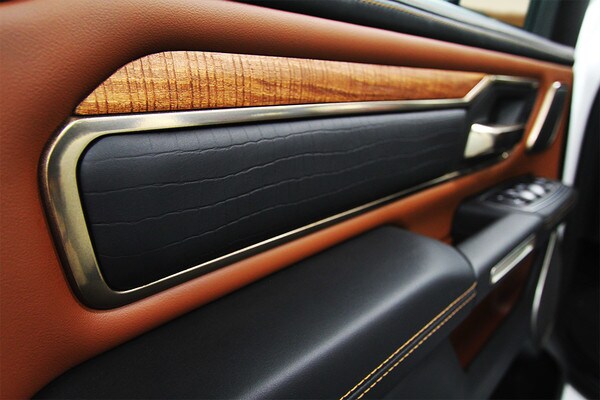 Ram 1500 Sport for Sale Near Embrun, Ontario
Under the hood, you can find Ram's legendary 5.7-litre HEMI V8 as standard equipment. It produces 395 hp, and 410 lb-ft of torque pushed to four wheels through an 8-speed automatic transmission. The exterior speaks to what Ram is all about. Aggressive lines and a front end that looks quite sinister. Available two-tone 22-inch wheels are to die for, while a blacked-out grille, blacked-out bumpers really drive home the Sport feel.
Popular Questions
What is the sport package on a Ram 1500?
The Sport package of the Ram 1500 includes 20-inch aluminum wheels, Uconnect multimedia centre with an 8.4-inch touchscreen
How many feet is a Ram 1500 Sport Quad Cab?
The 2020 Ram 1500 Sport is approximately 19 feet long.
How much can Ram 1500 Sport pull?
The Ram 1500 Sport can pull 3,738 kg
If you have any more questions regarding the 2020 Ram 1500 Sport please dont hesitate to contact us for more information. We cant wait to hear from you!
Browse 2020 Ram 1500 Sport in Embrun, Ontario